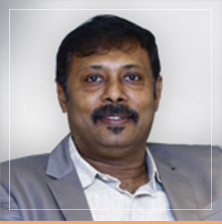 Sridharan Sivan
Founder
Sridharan Sivan is the Founder of S10 Health, and has always been a highly motivated, successful entrepreneur throughout his life. He has set up and managed 5 extremely successful businesses in the past and is currently on to his 6th and clearly the most exciting venture till date.
Prior to setting up S10 Health, Sridharan was the co-founder & Managing Director of Take Solutions Ltd. With his exceptional leadership skills, Take Solutions soon grew to becoming a global organization with operations in 8 countries, 1300 employees and an annual turnover of Rs 850 Crores.
As a pioneer, Sridharan has numerous 'firsts' to his credit including setting up the country's first and largest Search Engine & Chennai's first retail outlet for Computers and a graphically modelled business process management framework to automate functions not covered by existing ERP packages.
Driven by endless passion and focused on creating innovative business models, Sridharan Sivan continues enriching the society he is a part of. He is actively involved in industry bodies like CII, NASSCOM and ICTACT. He is the immediate past Chairman, Confederation of Indian Industry (CII), Chennai zone.