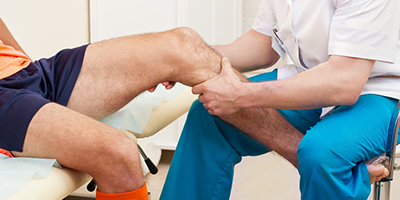 Knee rehabilitation is the key to a perfect functional recovery after a knee injury or a surgery. Adhering to a well-structured, scientific knee rehab program which provides a wide range of exercises specially designed with you in mind helps to achieve your rehabilitation goals. This can help you get back to form and return to your favorite sport with renewed vigor and greater enthusiasm. A comprehensive, evidence based knee rehab program comprises of knee strengthening exercises to strengthen the muscles that support the knee, reduce soreness, keep muscles flexible, restore full range of motion and prevent re-injury.
The Procedure
A scientifically designed knee rehab program includes, prevention techniques, rehabilitation from knee injuries and return to form after surgery. The sports physician will assess your needs and devise a customized scientific rehab program to enhance bio-mechanics, maximize performance, avoid injury and promote independent functional mobility. Your physician will also teach you to improve leg strength, the landing techniques, ability to withstand cutting and planting maneuvers and incredible tips to improve performance and reduce the incidence of knee injuries.
The Symptoms
You might need a Knee rehab program in the following cases
Knee arthritis
Deterioration of cartilage tissues in the knee
Meniscal Tears and knee ligament injuries
Rehabilitation of knee after Arthroscopic ACL reconstruction
Post knee debridement and Meniscectomy
Post Knee Meniscus repair
Post articular cartilage repair
The Eligibility
You are eligible for a Knee rehab program in the following cases
A commitment to an intensive rehabilitation program, to ensure a good outcome
Young athletes who are highly motivated and can often have more time to commit to rehabilitation
After an injury or surgery to help return to daily activities and to enjoy a more active, healthy lifestyle
A strong commitment to strengthen and improve flexibility of the knee so that you can get back on your feet faster
The Risks Involved
To ensure that the Knee rehabilitation program is safe and effective for you, it should be performed under your doctor of physical therapist's supervision. Do not ignore any pain. In case of any pain, talk to your doctor or physical therapist immediately.
The Impact
A comprehensive Knee rehabilitation program helps you to get back on your feet and resume an active lifestyle. However, your success with a Knee rehabilitation largely depends on your commitment to follow the exercise program developed by your therapist.
Knee rehab program is never complex as the knee itself, but individualized to perfectly fit the needs of patients. Opt for a comprehensive Knee rehab program –to ensure a seamless transition from rehabilitation into function.