Diabetes Lifestyle Management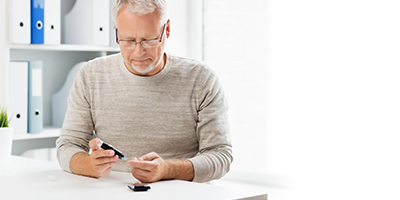 Diabetes is a silent killer that steals your life away, slowly! Diabetes, a lifestyle disorder can strike you without any warning and if left untreated can take a toll on your life. Though diabetes is on the rise, studies validate that one can prevent, control or even reverse diabetes by incorporating healthy lifestyle changes. The secret to managing diabetes doesn't come as a magic potion. Simple lifestyle changes will do the trick! If you are diagnosed with diabetes do not feel petrified and think that your life is over.Living a healthy lifestyle is the best arsenal that you have to fight diabetes.
The Procedure
A Diabetes lifestyle management programcomprises of
Chalking out a personalized, diabetes-friendly diet and indulging inphysical activity, along with using the medications
Engaging in moderate physical activity, as your muscle contractions push glucose out of your blood into your cells and the result is better blood sugar levels
A diabetic diet tailored to your unique biochemistry to help keep your blood sugar in a target range
Making simple lifestyle changes
The Symptoms
The commonsigns that you might need a Diabetes lifestyle management program are
Intense hunger pangs
Increased feeling of thirst
Frequent urination
Excessive fatigue and tiredness
Unexpected weight loss
Irritability and mood swings
Blurry eyesight
Dry and itchy skin
Numbness or tingling sensation, especially in your feet or hands
Dryness of mouth and fruity breath odor
Sores that heal slowly
Infections like thrush
The Eligibility
You are eligible for a Diabetes lifestyle management program if you strongly believe that
In addition to medications, lifestyle modification, is an equally integral part of diabetes management
Moderate physical activity improves your insulin sensitivity and glycemic control
Healthy eating can help address diabetes at the foundational level
You can make wellness your way of life
The Risks Involved
Simple lifestyle modifications is indeed a safe, effective and natural approach to treating diabetes.Making changes to your lifestyle not only prevents complications but also ensures you live your best life. Hence, it is absolutely risk-free.
The Impact
You can live a long healthy life with diabetes. Diabetes is not a death sentence, but a wake-up call telling you to start doing things differently in your life. The sooner you take action the sooner you will be on the road to living a happier, healthier life.
Being diagnosed with Diabetes mellitus can be a rude shock and put you into a bit of tailspin. However, diabetes is not nearly as dire as it may sound. Remember, people with diabetes are ordinary people living with an extraordinary condition. Incorporating simple lifestyle changes ensure that you can manage diabetes without much strife. If you are living with diabetes empower and inspire you with the information you want and the tips and tools you need to make wellness your way of life! S10 Health offers a simple and effective approach to understanding diabetes and the lifestyle changes that can truly make a difference in your overall well-being. Live well with diabetes - Life with diabetes should be full and satisfying indeed!