Physical Therapy (Physiotherapy)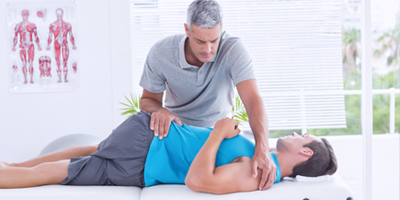 Physical Therapy focuses on a holistic approach to pain management. It encompasses the art of healing and empowers patients with the courage to cope up, move around and perform everyday tasks with increased independence. Sports Medicine Specialists or Physical Therapists, who are experts in 'human body anatomy and movement' offer individualized Physical Therapy evaluations and therapeutic procedures to help restore function, improve mobility and relieve pain. Yes, Physical Therapy helps in maximizing your physical function, fitness level and quality of life. Don't let injury set you back. Get back on your feet! Recover and sustain maximum function with Physical Therapy! Indeed, it is a great way to bounce back and enjoy a more fulfilling and healthier life! So let's get 'physical'!
The Procedure
Physical Therapy is the process of giving your body all the essential components to let it heal the way it was made to. Physical Therapy interventions comprise of different elements. The most common interventions used in Physical Therapy are
Therapeutic exercises – A full range of physical activities that focuses on restoring you to a full-functioning and a pain-free state. A therapeutic program may include strengthening exercises, endurance exercises, flexibility exercises and balance and coordination exercises.
Manual therapy – This is a hands-on-approach to reeducate the body into proper movement and mechanics.
Modalities- These are agents that promote quick healing. Agents commonly used include hot or cold packs, ultrasounds, traction units, cold lasers, pneumatic compression devices, paraffin wax and electrical stimulation.
Taping – This is the use of athletic tape to a joint or soft tissue to help promote comfort, healing and/or correct positioning
Patient education – Equipping you with tools and knowledge to maintain and/or enhance recovery and prevent it from happening again
The Symptoms
You may need a Physical therapy if you
Have sustained a major injury or accident and are in a recuperating phase
Experience pain and functional limitations as a result of back and neck injuries, sprains, fractures, arthritis, stroke, amputation, work injuries or sports injuries
Are living with chronic medical conditions and looking to improve your health through a regular exercise regime
The Eligibility
An integrated Physical Therapy program is ideal for those who
Wish to strengthen your muscles, increase your flexibility, correct posture, alleviate pain in the injured area and improve functionality
Wish to return to athletic competition, a highly active lifestyle, or a physically demanding work environment
Feel that over-the-counter anti-inflammatory and pain-relief drugs aren't offering any reprieve
Are motivated to recover quickly from a performance-related injury or surgical procedure
Are looking for guidance in starting/maintaining an exercise program
Have a commitment to stay motivated during the program
The Risks Involved
Physical Therapy is a holistic approach to restoring mobility, vitality and function. It is generally safe. However, not every treatment program will work for all patients, and certain risks may arise. One of the major risks associated withPhysical Therapy is pain, which may lead to confusion and poor motivation to continue. Swelling is another common problem which can cause additional pain and functional limitations. There is also no guarantee of recovery or complete resolution of symptoms. Frequent appointments, baseline pain, slow progress and lengthy time spent in therapy can tax your schedule.
The Impact
Physical Therapy attempts to improve mobility, increase function and decrease pain to the greatest extent possible. However, in some situations complete recovery may not be possible and potential flare ups may occur. Incorporating a customized home exercise program after discharge from formal services can put things in balance and prevent future flare-ups.
Physical Therapy offers a comprehensive care, personalized evaluation and a customized treatment plan. It is indeed a great alternative to medication for long-term pain management. From breaks to bruises to bursitis, Sports Doctors and Physical Therapists possess the special knack to assess human body and help it restore to optimal performance. Opt for Physical Therapy not just to improve mobility but also prevent recurrence and substantially increase the quality of your life! Get back on your feet faster with Physical Therapy!