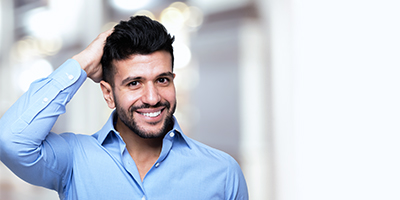 Overview
Hair fall is becoming a serious issue with every passing day and one of the most common grievances amongst men. Unexplained and excessive hair fall can be quite embarrassing because it's all in your head! Whilst there's no harm in aging gracefully the effects of baldness can be far more traumatizing than merely the loss of hair. No wonder, people experiencing hair fall go through a great deal of stress and depression. Hair Transplantation is an effective surgical solution for baldness. This surgical technique involves the removal of hair follicles from the back of the patient's scalp, which are more resistant to hormonal changes and relocating to the thinning or balding areas. Get a sudden rejuvenation atop you heads with Hair Transplantation!
The Procedure
Hair Transplantation is performed using two techniques
Follicular unit extraction: This is a highly popular transplantation method that involves removal of individual follicles from behind the scalp area one by one with the help of a small circular instrument and implanting it in the balding or thinning areas.
Follicular unit transplantation: This is a much simpler procedure that involves the removal of a strip of tissue from behind the scalp area, cutting it into follicular units and strategically placing it over the head.
The Symptoms
You may need a hair transplantation surgery if you
Experienceexcessive thinning of hair, a condition that initiates gradual hair loss and makes your scalp progressively more visible.
The Eligibility
You are eligible for a Hair transplantation if you
Have a stable supply of donor hair
Have lost hair due to trauma or burns
Have lost hair on account of other cosmetic surgeries like facelift
Have good scalp laxity
Have thicker, coarser and wavy hair as it ensures better results
Have no family history of severe male pattern baldness and have tried medications to reduce hair loss
Have been losing hair due to male pattern baldness for more than five years
Have realistic expectations with a positive thinking and attitude
The Risks Involved
The risks associated with Hair Transplantation are unnatural look, scarring, excessive bleeding and death of hair follicles, in which case no new hair growth is possible in the transplanted area.
The Impact
Hair restoration surgery has the ability to create extremely natural looking results. They do not look as conspicuous as the hair plugs. Your physician's attention to artistry and awareness of the classical rules of facial dimensions can create a virtually undetectable hairline restoration.