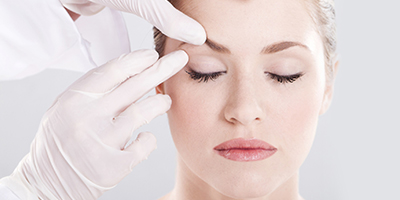 Overview
Eye bags are one of the most aging facial features and can significantly detract from an otherwise attractive face. If you are bothered by sagging eyelids or hooded eyes, Blepharoplasty is the way to go. Itcan indeed awaken your tired eyes and take years off your appearance. Blepharoplasty is a surgical procedure used to repair droopy eyelids by removing the excess skin, fat, and muscle that can build up with age. Achieve a fresher and younger looking appearance with Blepharoplasty.
The Procedure
Blepharoplasty is performed with either local or general anesthesia. Incisions are made following the natural lines of your eyelids and the excess skin and fat is removed or repositioned. The underlying tissue is tightened and sutures are placed along the natural skin creases.
The Symptoms
You may need a Blepharoplasty if you experience any of the following
Excessive drooping and sagging of skin around your eyes
Puffy upper eyelids, making your eyes look tired
Puffy packs under the eyes
Obstruction of your visual field
Baggy or droopy upper eyelids
Dark circles or hollows under the eyes
Difficulty keeping eyes open
Eyes appear smaller or saggy than they did in the past
Skin of your eyelids have wrinkled and lost its luster
The Eligibility
Blepharoplasty is an ideal choice for
Individuals looking to improve droopy upper eyelids and bulging lower eyelid bags
Individuals with good overall health and without any serious medical conditions that impair healing
Individuals with realistic expectations of the outcome of the procedure

The Risks Involved
Temporary double or blurry vision, swelling, whiteheads, slight asymmetry and dry eyes are the potential complications that may occur following a Blepharoplasty.
The Impact
Blepharoplasty can create a dramatic improvement in the overall appearance of your eyes and restoration of peripheral vision. It can correct drooping eyelids and puffy eyes and make you look more lively, youthful and refreshed. If too much fullness and heaviness of the eyelids bother you opt for a Blepharoplasty.