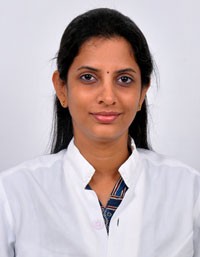 Dr. Krithika Datta is a Consultant Conservative Dentistry & Endodontist at Rajan Dental Hospital with a decade of experience. She has received various awards for her academics and many of her papers have been published in International & National Scientific papers.
Best Outgoing Student (all rounder) at Vidyodaya Girl's High School March 1995
Best Outgoing Dental Graduate at Saveetha Dental College Dec. 2002.
Gold medalist in Physiology and Biochemistry, Periodontology, Orthodontics and Prosthodontics. (1997-2002)
Obtained the 3rd rank in the Tamilnadu Dr. M.G.R. Medical University in B.D.S.in the year 2002.
Single Visit Endodontics: Indian Dental Association Conference Trichy in October 2002
Dental Ceramics – Changing smiles across miles! Presented At: I National student symposium on Ceramics, Anna University, Chennai, September 2005.
Remineralization of white spot lesions – An open labeled clinical trial
Indian Dental Conference Feb. 2010, Chennai.
Clinical Effectiveness of contemporary Dentin bonding agents.
Presented at International Society for Dental Research (ISDR) national conference, held at Chettinad Health City, Chennai January 2011.
First in Debate
Metals in Restorative dentistry – Antique or Alchemy.
Participated at: Raja Muthiah Dentnal College, Annamalai University, Chidambara, 2006
Prof. Dr. R. Gunaseelan is the Director & Chief Surgeon at Rajan Dental Institute with over 25 years of experience in dentistry Implantology and Maxillo - Facial surgery.