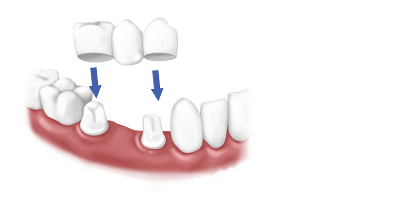 Dental crowns are tooth-shaped, natural-colored coverings that are placed on the tooth's surface to provide the desired shape, strength and resilience, while improving its appearance. These fixed prosthetic devices are manufactured in the dental lab and permanently bonded onto your natural tooth structure with dental cement. If you wish to bring back a beautiful smile that is your 'crowning glory' - give your teeth a new life, with dental crowns.
The Procedure
The crowning process usually takes two visits. During the first visit your dentist will anesthetize the affected tooth and file it down to make room for the crown. He will then take accurate molds or impressions that are used to create your custom crown. A temporary crown is placed to protect your tooth while your new crown is fabricated at the dental lab. During your second visit the temporary crown is removed, the tooth is cleaned and the new crown is placed, to ensure a proper fit and alignment.
The Symptoms
You may need Dental crowns if you
Have suffered major tooth decay or injury

Experience pain and discomfort while chewing food

Have major chips or cracks

Have severe tooth discoloration that is unlikely to respond to professional teeth whitening procedure

Have severely misshapen or disproportionately small teeth
The Eligibility
You are eligible for Dental crowns if you
Have healthy gums to support the crowns

Have undergone a root canal therapy and need to protect the remaining tooth structure

Have a strong desire to improve tooth aesthetics

Have realistic expectations about what dental crown can achieve

Are well-informed about the procedure and can commit to good oral hygiene habits
The Risks Involved
Although rare, tooth sensitivity, removal of healthy tooth structure, perforated tooth surface, nerve damage, allergic reaction to the anesthetic medicine and bite misalignment are the possible risks involved with Dental crowns.
The Impact
Crowns integrate so beautifully with its surroundings that you will forget they are there. Yes, these specially crafted dental restorations offer a snug fit over a decayed or damaged tooth. With the translucency and luster of natural teeth, Dental crowns provide aesthetically attractive and functional results that can last a lifetime.
Dental crowns are absolutely essential when huge cavities threaten the health of the teeth. In other words Dental crowns are placed when normal dental fillings do not suffice. If you are contemplating a Crown be prudent and go ahead! With Dental crowns you can eat, chew and smile like you normally do, pretty much straight away!